What is JT SplatMaster?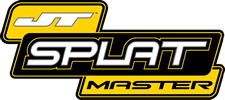 We recommend JT SplatMaster for players aged 7-12 years old (with the exception made for a mom/dad or older sibling etc). These games are designed with the younger player in mind. With the introduction of JT SplatMaster we can now lower the age limit from 10 years old to 7 years old (excluding .68 caliber).
JT SplatMaster is a sporting goods product that shoots color filled, round Ammo resulting in a Splat. The Ammo is 100% biodegradable, non toxic, resists stains, and easily washes away with water. JT SplatMasters are spring loaded and shoot at a velocity of 110-140 feet per second. At this speed, you can see the Ammo in the air before you see the satisfaction of your Splat.
Basic SplatMaster Party
2 Hours of playing time with Unlimited ammo during play.
6 PLAYERS $150
8 PLAYERS $190
10 PLAYERS $220
12 PLAYERS $240
Book you party, call 315-828-6875
Download your waivers ahead of time to have parents fill out here!

We recommend that players be between the ages of 7 -12 (with the exception made for a mom/dad or older sibling etc).


This type of reservation must be booked at least 48 hours in advance


Reservations and deposits are required for Group/Birthday Packages.


A valid Visa/Master Card are required for renting any equipment.
Frequently Asked Questions

What Does it Feel Like to Get Hit? This is the number one question new players and parents ask. JT SplatMaster Ammo has been developed and designed to shoot straight, break on contact, and clean up easily with water. The way it's been described by kids is that it has a minor sting, like that of a small, thin rubber band.
When the JT Ammo hits something or someone it will break most of the time, especially on hard services or muscle/firm parts of the body. We say, "most", because there are times when the JT Ammo may hit a "soft" part of the body and bounce. Also, if JT Ammo is not stored in proper conditions it can become hard and resist breaking.


Is JT SplatMaster like Paintball?For those familiar with paintball, JT SpaltMaster does have some similar characteristics on the surface. But dig a little deeper and you'll find that JT SplatMaster really is something totally new.


First, JT SplatMasters are powered by spring pressure, not compressed air or CO2. This results in the Ammo only traveling between 110 and 140 feet per second versus 300 feet per second, the speed of a paintball.


Second, JT SplatMaster Ammo is smaller in size than standard paintballs, and when you include that characteristic with the reduced speed the Ammo travels, it results in less energy – which means, less impact and considerably less "ouch".


Last, a special shell has been developed with a fill that is designed to break on contact traveling at the low speeds of JT SplatMaster.


Spyder Opus Low Impact Paintball


GROUP DETAILS
Private Parties available. 4-9 Players @ $35.00 ea. 10-15 Players @ $30.00 ea. 16+ Players $25.00 ea.
Each Player gets Opus marker, Air and 500 paintballs.
FIELDS
We have 3 different Fields; Woodsball, Speed-woods and Sup-Air. Click here for details and pictures.
Download your waivers ahead of time to have parents fill out here!
STORE HOURS
10:00am-5:30pm MONDAY, TUESDAY, WEDNESDAY, FRIDAY & SATURDAY
10:00am-2:30pm THURSDAY
10:00-4:30 SUNDAY
Please call ahead if possible do to occasional travel.
2139 STATE ROUTE 14N
GENEVA, NY 14456
315-828-6875